Proscenic Integrates Siri and IFTTT for Ultimate Smart Home Control
Exciting news for Proscenic robot vacuum users! With the latest app version V2.9.0, you can now enjoy greater control over your home environment by using Siri and IFTTT. In the future, Proscenic plans to integrate additional devices such as air fryers, smart locks, air purifiers, and humidifiers with Siri and IFTTT. Proscenic is among the few smart home appliance brands that support Apple's voice assistant and IFTTT, making it a versatile and user-friendly choice for those who want to automate their homes.
Voice-Control Your Proscenic Robot Vacuum with Siri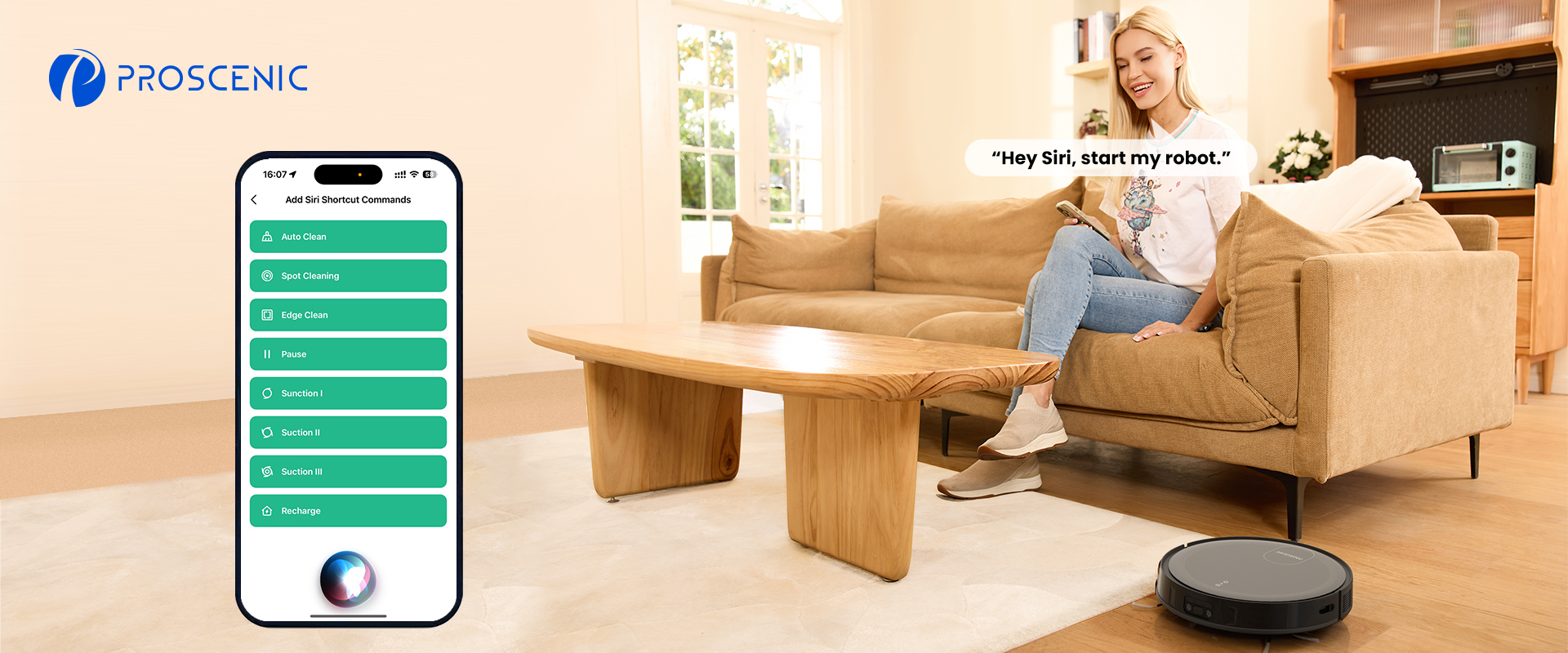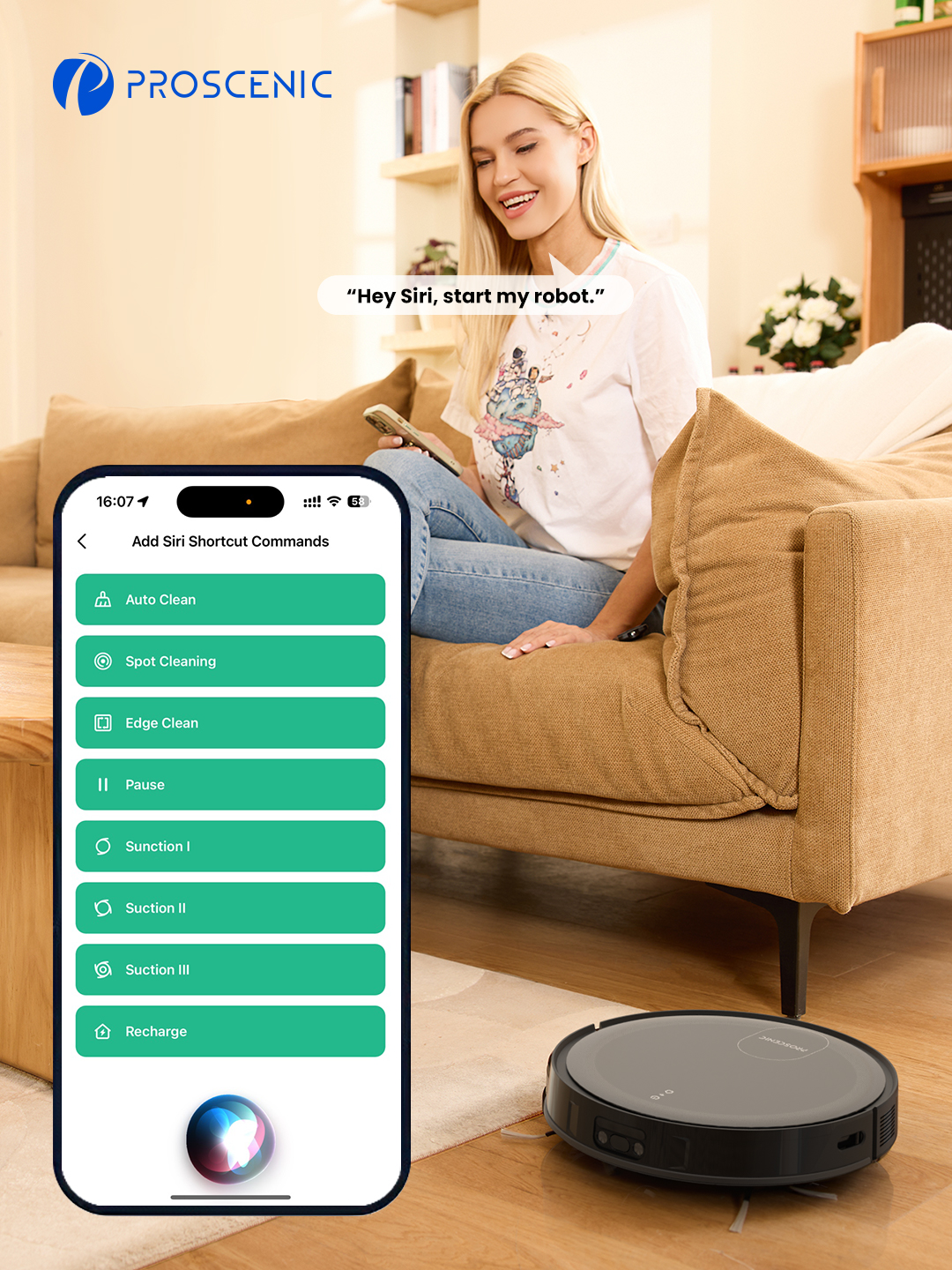 The available Siri voice commands vary based on the particular product model and are listed within the connected device in the Proscenic app. For instance, with certain robot vacuum models like the Proscenic Floobot X1, users can utilize voice commands such as auto clean, spot cleaning, recharge, pause, continue, mop, and adjust suction and water volume.
All the voice commands can be customized to use your own words, making chatting with your Proscenic gadgets easier. For example, if you want to let your robot vacuum clean the whole place, you can just say, "Hey, Siri, ask my robot to clean everywhere." Then you can sit on your couch, watch as it springs to life to clean your floors. By making your unique commands, you can make the Proscenic app even more customized to your needs.
Only a few smart vacuum manufacturers offer Siri voice support in their products. Roborock and iRobot, and are two examples. Proscenic is pleased to be among the first brands to bring you this innovative, intelligent experience.
Automate Your Proscenic Robot Vacuum with IFTTT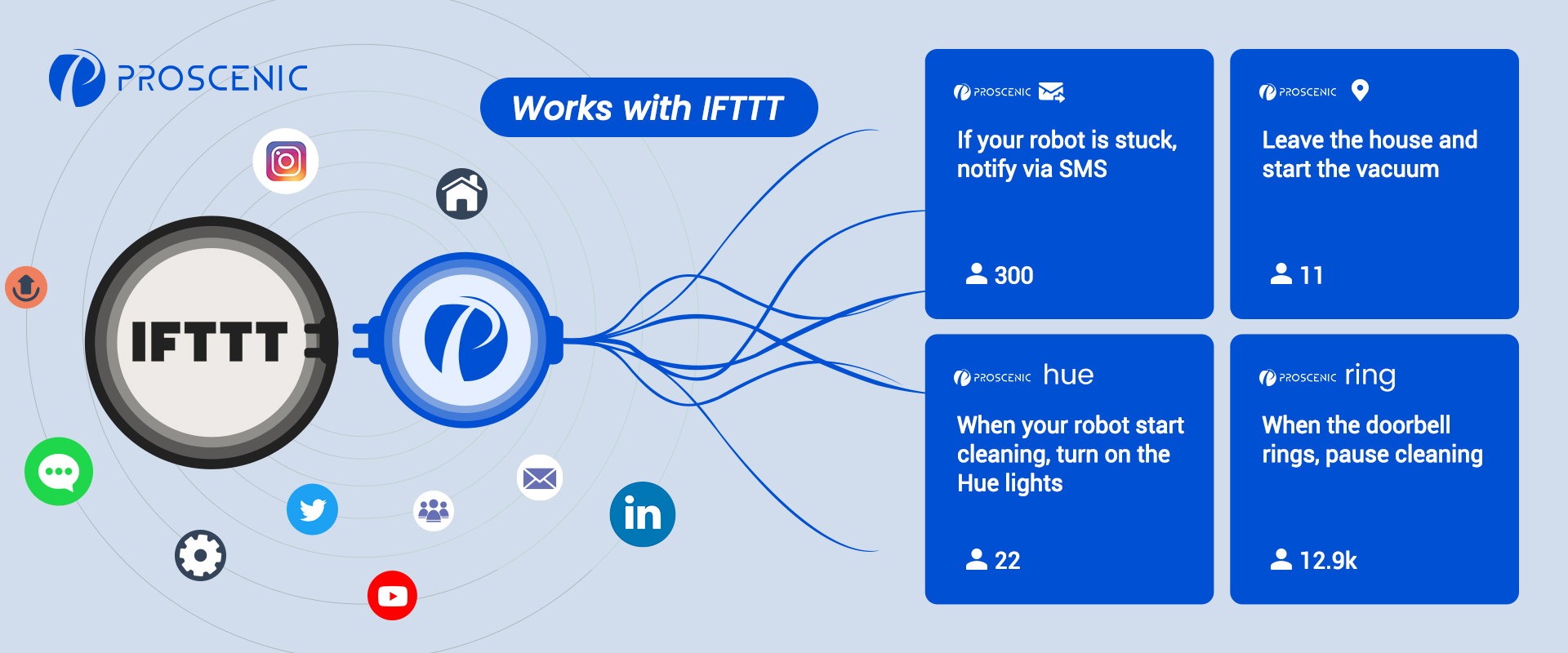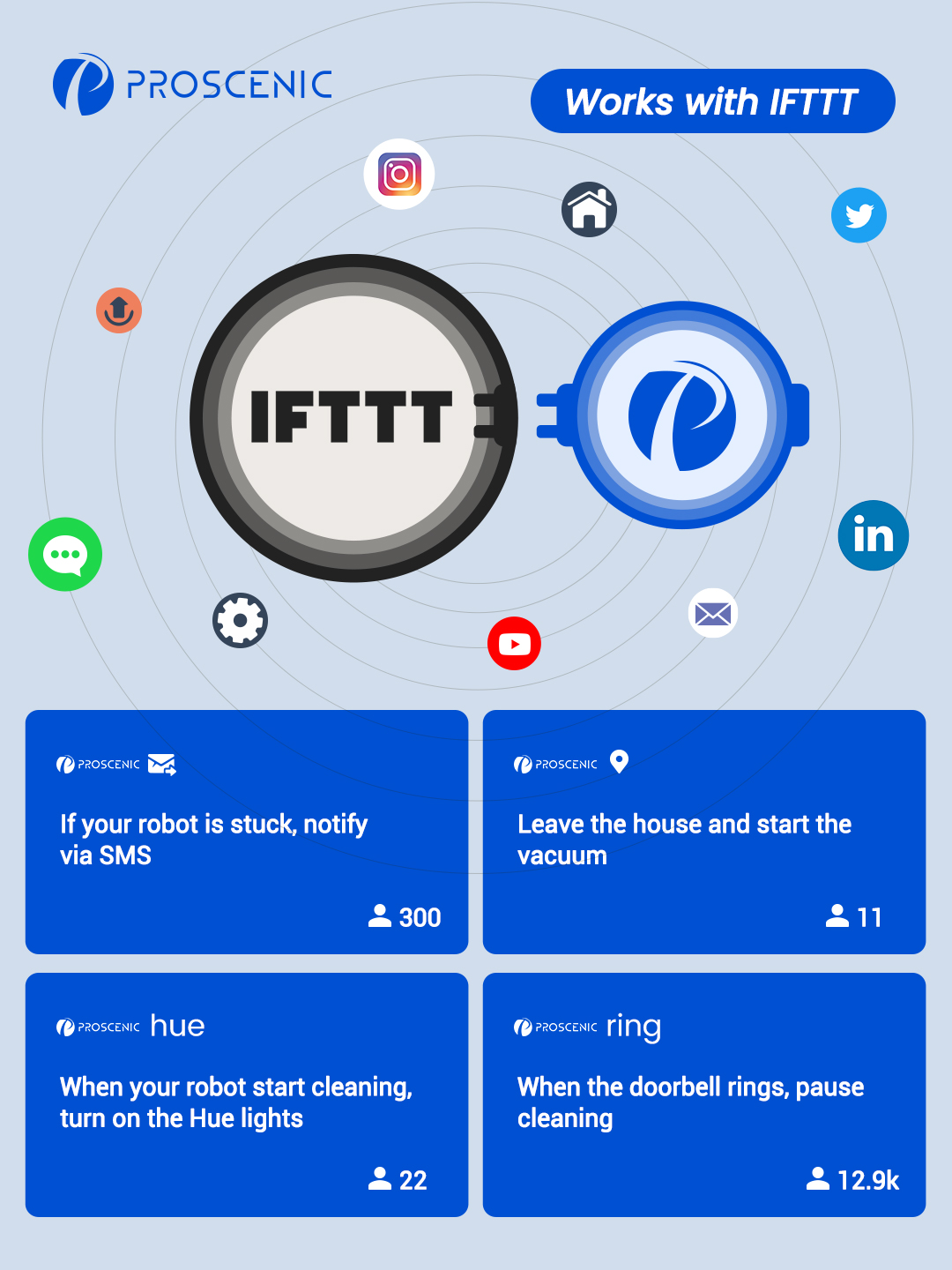 In addition to Siri support, Proscenic has partnered with If This Then That, better known as IFTTT, to help make your home a little smarter and more helpful by automating it in ways you may have never thought possible.
IFTTT is a web service that enables you to seamlessly integrate your Proscenic device with other Smart Home devices and popular web services to do some amazing things! Instead of pushing a button on the robot, in the app, or setting a fixed schedule of days and times to clean, IFTTT allows you to automatically start your robot if you leave the house, pause your robot if your doorbell or phone rings, play a song when a cleaning job finishes, or even fire off a tweet when your job is complete.
You can find preconfigured applets in Proscenic's IFTTT channel, including options to start your robot vacuum when you arrive home or at an appointed clock. You can also create customized commands for even more personalized control. The possibilities for automation are nearly endless with IFTTT and Proscenic.
Proscenic's VP Shares Expectations for Siri & IFTTT Integration
"We believe in providing our customers with the latest technology and convenience, which is why we are excited to announce the integration of Siri and IFTTT with our Proscenic app. With these new features, our customers can easily control their home appliances with their voice and automate tasks with just a few taps," said Miles Jiang, vice president of Proscenic. "Our expectation is that the integration will improve the overall customer experience and introduce innovative automation, setting our products apart from others in the market."
Siri & IFTTT Integration to Expand to More Proscenic Devices
Siri and IFTTT support will roll out later to our other already impressive range of smart home devices, including air fryers, smart locks, air purifiers, and humidifiers.